How many times you've heard this: Without advertising on Google, it's hard to increase sales. Google and Facebook Ads are considered to be quick and easy ways to boost online sales. Well, many online businesses still believe this, and they are spending a lot of bucks every day on these methods to generate sales. Luckily, there are many other methods to boost online sales without spending a single penny on Google/Facebook ads.
In this post, You will get to know about 8+ ways to boost online sales without google ads. The best part about these methods is: They will help you to build relationships with your customers which will help you to get even more sales later.
Contents hide
1. Using Instagram To Boost Sales
➤ Make Your Instagram Shoppable
➤ Partnerships with Influencers
6. Use Videos To Market Your Products
7. Keep Checkout Process Simple
8. Optimize Your Site For Mobile Devices
1. Using Instagram To Boost Sales
Instagram is one of the highly active social media platforms in the world. According to a survey :
72% of Instagrammers feel encouraged to take action after seeing images on Instagram.
38% of customers say they often buy products they see on Instagram.
Here's what you can do in Instagram to boost online sales without google:
➤ Make Your Instagram Shoppable
A webpage like Pura Vida Bracelets serves as a great example of this. When you click the link in their bio, You will be redirected to their website which imitates the look of a shoppable Instagram gallery.
When you click on any picture, You will get to know the item's price with an "Add to cart" button. No idea about creating a website like this? You can contact us anytime to get it done under your budget.
➤ Partnerships with Influencers
You can send your products as gifts to influencers and ask them to post reviews or unboxing videos on their Instagram handle in return. Or you can pay them to mention your brand on their posts.
2. Referral Program
Haven't tried a referral program for your site yet? It's worth giving a shot!
81% of shoppers say that a recommendation from a friend/family member heavily influences their shopping decisions.
Offer a free perk or a percentage of the sale amount as a referral commission to your customers. This way they will be motivated to bring more and more sales to you. This is one of the best ways to boost online sales without google ads.
This method certainly worked for Dropbox. It has grown its userbase from 100k to 4M in just one year from its referral program!
3. UpSelling & Cross-Selling
Upsell is a method to encourage customers to buy a comparable higher end product while cross-selling is the method to suggest customers to buy complementary or add-on items related to what they have added to their cart.
Amazon is able to generate 35% more revenue using the "Frequently Bought Together" and "Customers Who Bought This Also Bought" sections.
4. Abandoned Cart Emails
On average, only 2% of the total web traffic on a website purchases the first visit. Most of the time, they just add the product to their cart and then forget to purchase the item.
You can send abandoned cart emails to increase your conversion rates. Tools like GetResponse or CartStack can help you create abandoned cart automation, which will surely boost your conversions.
5. Integrate Online Chat Apps
Integrated chat helps customers to make buying decisions faster. According to the survey from Forester, Visitors who use the online chat on a website are 2.8x more likely to complete the purchase.
If you are not able to chat online with visitors, You can always setup chatbots like Tidio or Intercom to provide support for frequently asked questions. They are easy to use and require no coding knowledge to integrate on your existing website.
6. Use Videos To Market Your Products
Videos highly influence the buying decisions of customers. 47% of customers search for video reviews of a product before making the purchase. You can post customer reviews on your brand's youtube channel and then showcase those videos on your product pages. Also, You can post How-To videos related to your product. This way you can promote your product and provide value at the same time! This will help you to solve the problems of existing customers and attract new buyers by showcasing the benefits of your products. One great example is Hootsuite, They post videos on their youtube channel regularly.
7. Keep Checkout Process Simple
A report from Business Insider says, Merchandise worth $4 Trillion was abandoned in the cart last year. If you have a complex checkout system in your website, it will surely affect your sales. Try to keep the checkout system as simple as possible.
You can read this article from Quicksprout to simplify your website's checkout process and make it easy for customers to make a purchase. Enable guest checkout to simplify the process. Creating a profile is not important for making a purchase. Global giant Wallmart serves as the best example for this.
8. Optimize Your Site For Mobile Devices
It is very important to optimize your website for mobile devices. In fact, 79% of mobile device owners made a purchase online within the last 6 months. Your website should be responsive so that it can adapt its design to any device without breaking the layout. Mobile device owners use fingers to navigate, which have generally less precision than a mouse pointer. Make sure to give proper padding and spacing to buttons and CTAs to avoid errors. If your website is not properly optimized for mobile, you will end up losing potential customers.
You can use Google's Mobile Friendly Test to check if your website is properly optimized for mobile phones.
Follow these latest UI Design Trends to make your website stand out from others in 2021.
9. Apply SEO Strategies
When it comes to boost online sales without google ads, How can we forget to strategize SEO which will bring the organic traffic as well as sales to our site? 44% of people start their online shopping journey with a Google search.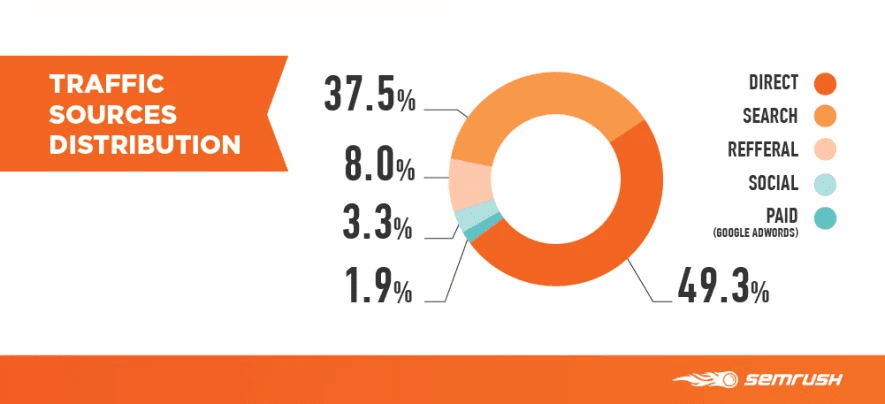 Instead of burning money on ads, invest it to learn SEO so that you may optimize your website yourself and rank it on top pages of search engines. You can also learn SEO yourself from this free course provided by Google. And if you're feeling overwhelmed or don't have time for all this SEO stuff, reach out to me. I'm more than happy to help! 
Local SEO is also important to generate sales from organic searches on google maps. Read this awesome article to know the importance of Local SEO in your business.
Bonus : Download E-Commerce SEO Checklist By Shopify
Conclusion
In this article, We've talked about 9 ways to boost online sales without google ads. We have also mentioned some case studies and examples of successful brands who are applying these strategies to bring online conversions to their website without Google/Facebook ads. Now there is no need for you to depend fully on online ads.
You can also apply these strategies to your websites and get online sales without depending on ads. Feel free to write any doubts or feedback in the comment section below. I'll answer all of your queries.
Bonus: A sound strategy for promoting product sales is important but that can be implemented only if you have an idea or a niche to pursue. Read this phenomenal article as to how you can find a niche for yourself.